Even if writing is your favorite subject–or, as in my case, your career–teaching your kids to write is a daunting task. Like swimming, once we learn to write, we tend to forget how hard it is to develop all the necessary skills and put them together. The WriteShop homeschool writing curriculum for teens takes the huge job of learning to write and breaks it down into tiny steps that are simultaneously challenging and rewarding.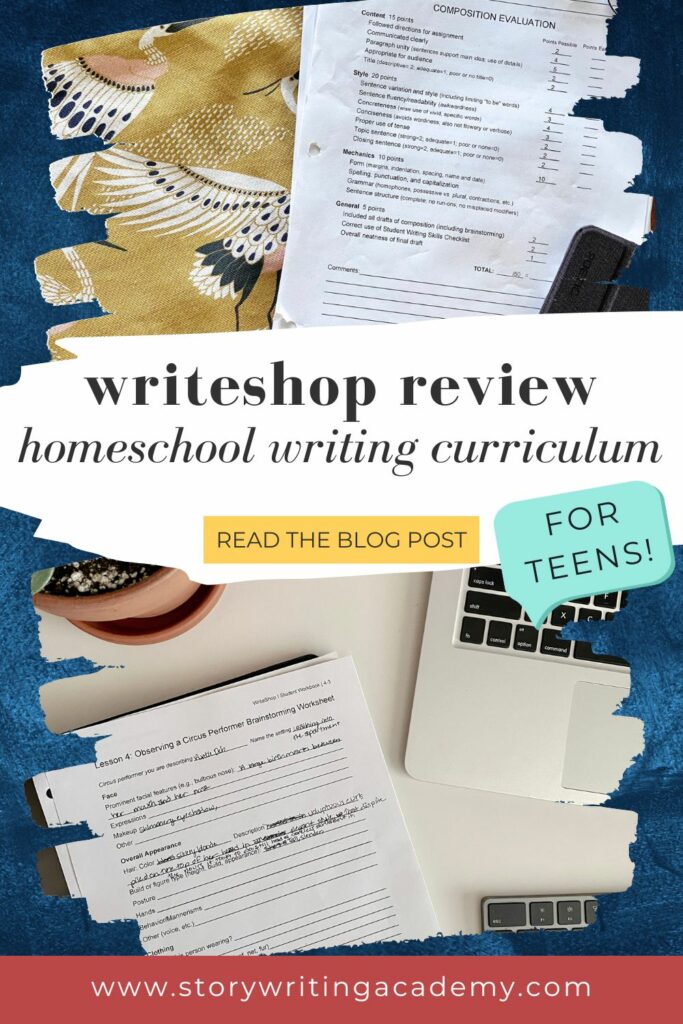 I received free access to WriteShop I for review purposes and I was compensated for my time. All opinions are my own and I am not required to post a positive review.
Disclosure: This post may contain affiliate links, which means we may receive a commission if you click a link and purchase something that we have recommended. Please read our disclaimer for more details.
Why a Writer Struggles to Teach Writing
If you've followed this site for any length of time, you know we are a family of writers. We spend our holidays, weekends, and car rides planning out books and troubleshooting plot points.
But when it comes to learning to actually write well, we've had as many struggles in this area as any. We've shopped around and tried different curricula. Some were too easy, others too challenging. A few were downright boring.
And though I love to go freestyle and work with my kids on their writing organically, I'm also well aware that I need a formal curriculum to make sure we aren't missing out on important skills. I can only use 'because it sounds better like this' as an explanation so many times before they realize how poorly educated I am about the parts of speech and the twelve major verb tenses. I'm ashamed to admit this, but nobody explained passive voice to me until my third year of university.
When we do find writing programs we love, my girls whip through them eagerly, applying the writing skills they learn to their personal writing projects as well as their assignments.
Currently, we're working our way through the first year of the WriteShop I homeschool writing program for teens. Although it took them a few weeks to adjust to the style of the lesson plans, I've been thrilled with the quality of the assignments they've turned in and with the lack of complaints about having to do said assignments.
Here are five things I think you'll love about WriteShop I.
1. Consistent Lesson Plans
If you love structured lesson plans, you'll love WriteShop I. It's nothing if not methodical.
The WriteShop teacher's manual, which also serves as the course outline, covers both WriteShop I and WriteShop II. Together, these programs offer 30 lesson plans designed to be used with teens in grades 6-12. It's a wide range, true, but it's designed so you can use it with multiple students, adapting it to their needs as necessary.
Each lesson plan can be completed in one to two weeks. Our family gravitates toward a breakneck speed so we tackle one lesson per week, but two weeks is the norm.
The lesson plans follow the exact same structure so students (and parents) know precisely what to expect. After an initial adjustment period, they get into the habit of doing specific tasks on each day of the week. For example, in our home, we watch videos and start the skill-building activities on Tuesdays and we brainstorm on Wednesdays.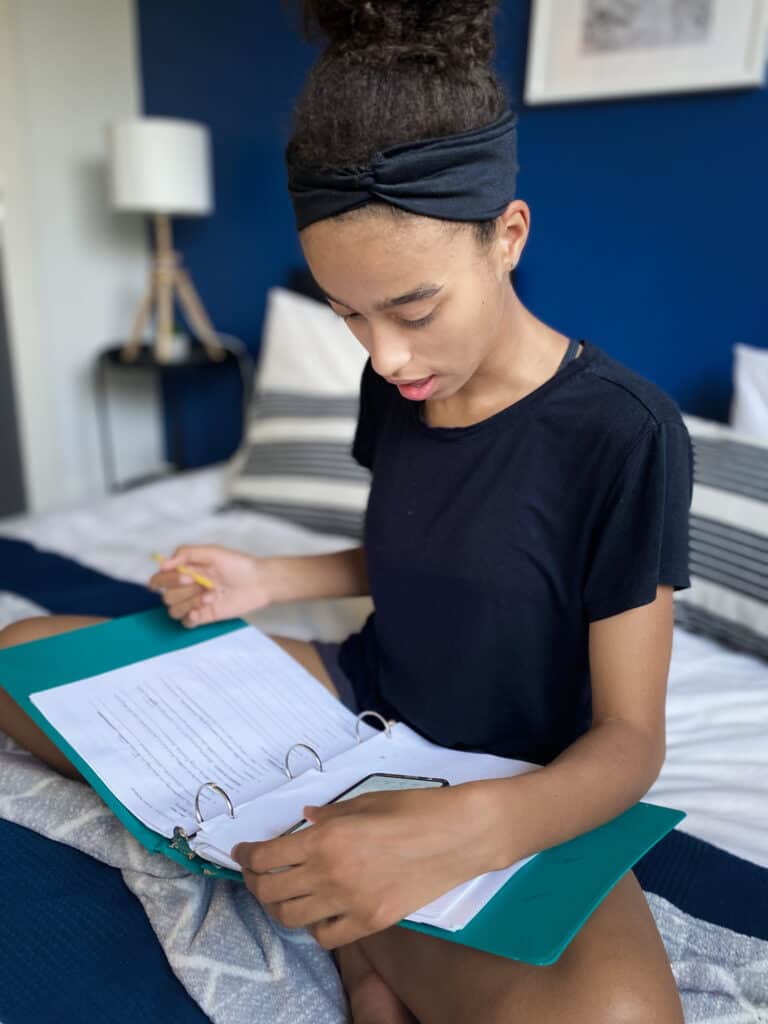 Getting into a consistent rhythm like this is so helpful for students because they develop a sense of certainty about how their time will be spent. They're also less likely to complain about assignments when they know exactly what's coming.
This consistency also makes scheduling a breeze. Once you have a sense of how long each section of the lesson plan generally takes your students to complete, you can schedule each day's writing activities with ease, confident in your family's ability to keep up.
Another benefit of using WriteShop is the detailed instructions in the student workbooks. Assignments are laid out clearly and students know exactly what is expected of them each week.
A lot of homeschoolers have a hard time getting their children to write enough. I have the opposite problem. Typically, if I assign my kids a scene as a writing assignment, they want to turn it into a novella. The problem with this is they put so much pressure on themselves to write this epic masterpiece, that they usually don't finish the assignment. They make it this big deal that swells beyond what they have time to tackle, and we get thrown off course with our other lessons.
This is never a problem with WriteShop. The instructions are explicit: your paragraph must be 5-7 sentences. That's it.
I think there's a sense of relief that comes with this restriction. The project feels more manageable and they're more willing to jump in and get it done.
While they still seek to inject some of their rampant creativity into their assignments–can I write this as an interview is not an uncommon question at our homeschool table–I refrain from allowing this divergence on their WriteShop assignments. There is something to be said for being able to follow instructions, and with assignments that have been carefully crafted to cultivate particular skills, I find it best to stick to the script with this curriculum.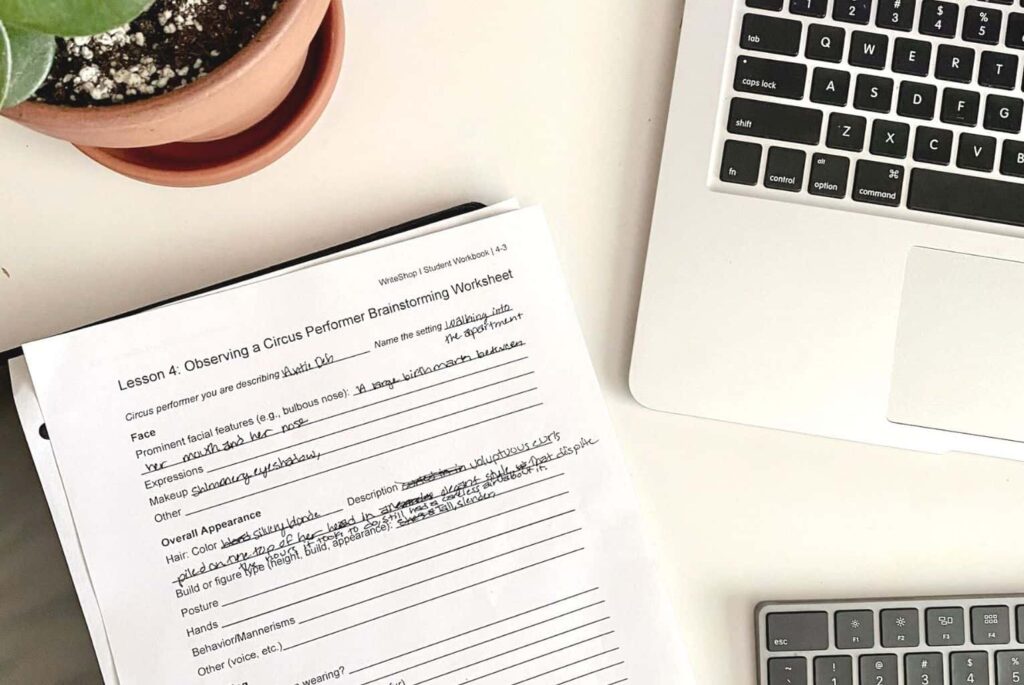 2. Clear Teaching Directions
Writing and math were always my favorite subjects and were thus the ones I most looked forward to teaching my own kids. Yet, paradoxically, I found they were the hardest subjects to teach.
Being good at something does not necessarily mean you'll be good at teaching it. If you're unconfident about your own abilities, you may also find the idea of teaching that subject daunting.
But WriteShop really takes the guesswork out of teaching writing.
Each lesson includes pre-writing activities and lesson notes to help you explain the concept to your children. If you're short on time or just want some extra support, the video-based version of the course makes this component even easier.
Parents work together with their students to brainstorm ideas and write a practice paragraph. After students write their own paragraph and edit it once, you will do your first edit and give them feedback to help them make it better.
I love that WriteShop empowers parents to encourage self-editing. If our children come to depend on us to revise their material for them, they'll never learn to push themselves to do their best possible work. By putting the ball back in their court, we not only save ourselves time, we teach them to take greater care with their own work.
Every lesson has its own editing checklist and there's a list of common mistakes found in each lesson. I've found these resources immensely helpful as I read over my students' essays looking for ways to improve.
As parents, it's easy for us to get emotional and take it easy on our kids because we know how much effort they've put into something. Conversely, it's also easy for us to be too harsh, setting unrealistic expectations and criticizing our kids when they don't live up to them.
The editing checklists, evaluation sheet, and common mistakes guide help remove some of that subjectivity and see our kids' work through a neutral lens.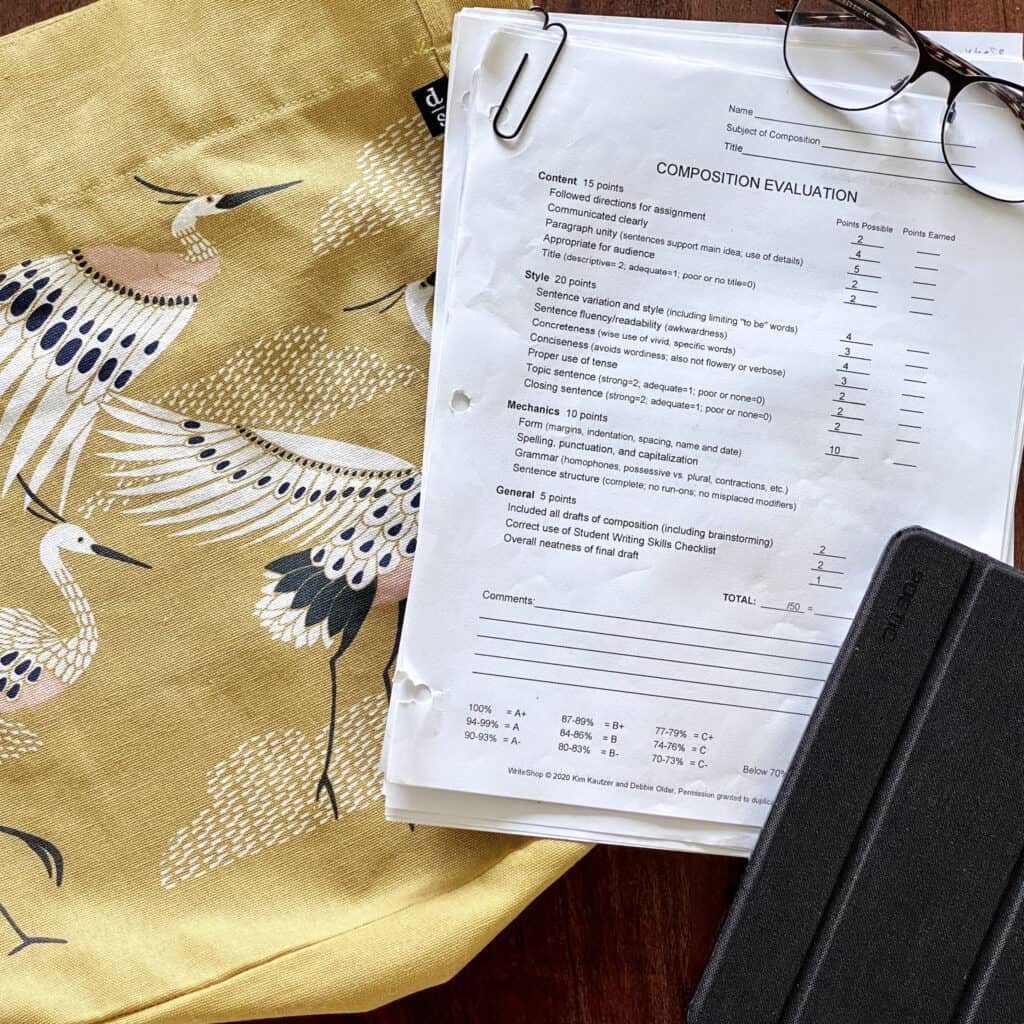 3. Tons of Helpful Resources
At first, the number of resources WriteShop provides to parents may seem overwhelming. The authors have really gone out of their way to give you everything you need to teach your student writing.
While all of them are useful, I–as a hopeless overachiever–find it necessary to remind myself I don't have to use all of them. When we first started the program, I familiarized myself with the contents of the teacher's manual, and I refer to the sections regularly as a refresher. But I also know that my kids will still become great writers through WriteShop's guided writing practices even if I miss some wonderful aspects of the manual.
Here are a few, though, that I find myself turning to over again:
Introduction to Editing
With WriteShop, you're still the teacher, but most often you're playing the role of editor, which may feel unfamiliar to you. WriteShop makes this task super manageable for parents.
Each assignment comes with a teacher checklist that you'll use to make editing suggestions on your students' assignments. In the Introduction to Editing, you'll find a complete explanation of every point on the checklist so you know exactly what to look for.
The Common Problems with Mechanics section adds further checkpoints, cueing you into what to look for in each particular lesson.
Positive and Encouraging Comments
This one is a goldmine. I know that when I'm editing my kids' work, I might be reading it and thinking how great it is, while simultaneously only writing down the problems I find. It takes special effort on my part to remember to point out all the things that work well.
I'd always been taught that you're supposed to give people two positive remarks for every one negative remark. Recently, however, I heard in a parenting course that the ratio should be more like five positive remarks for every one negative remark! Say what? Hearing this really made me pause and consider the way I respond to my kids and how I might learn to be more encouraging.
WriteShop helps me out with this by offering six pages of encouraging comments I can use to praise my children's effort. Things like:
You organize your thought and express them well.
You are a very expressive writer.
I love the way you use strong descriptions and synonyms.
Even though it takes a little extra time, I like to read through this list each time I edit a piece, looking for a few special comments I can offer my children to help them feel better about their own writing.
Word Lists
A huge goal of the WriteShop program is getting students to build a rich and colorful vocabulary by making friends with their dictionary and thesaurus. Additionally, the student book also offers a large selection of word lists that serve as a personal thesaurus.
These lists correspond with WriteShop's lessons and target the types of words addressed in the curriculum. Whether it's finding new ways to describe someone's blue eyes or searching for stronger adjectives than tall or angry, the word banks are a quick go-to for building up students' vocabularies.
Teaching videos
The instructional videos are not part of the regular WriteShop I/II program but can be purchased as an add-on if you already have the books or as part of a bundle if you don't.
Each lesson has several videos, which cover the various stages of the lesson plan. The videos bring another dimension to the lessons and make it easier to explain new concepts to students.
Filled with fun examples and lots of humor, the videos help students quickly visualize the lesson and offer additional self-editing tips.
They correspond to the new 5th edition, which has been revised from the fourth edition to make it completely secular but can also be used with all previous versions of the course.
Finally, the videos make it seem like the assignment is coming from someone other than me, which I think subconsciously makes my children more amenable to it.
Check out a Video Course Sample Lesson Here
4. Writing Lessons Feel Like a Fun Family Activity
My girls and I love writing together, and we get a lot of pleasure out of doing the WriteShop assignments together. As part of the program, teachers and students write a sample paragraph together before students tackle their own paragraphs.
We get a hoot out of brainstorming ideas together and discovering new words in our thesaurus. We try to outdo each other with the most outrageous descriptions, then challenge ourselves to cut them down and make them more concise. (Tip: don't do this if you're in a hurry. This sort of activity is best for rainy afternoon when you've got nowhere else to be and little else to do!)
WriteShop also encourages students to do a lot of observation before they start writing. This can lead to all kinds of fun.
When they were asked to observe and write a description of a pet, my kids struggled with who to choose. We have no pets of our own and our friends' dogs were too far away for us to borrow or visit.
Instead, we spent way too much time watching YouTube videos of Maru, the Scottish Straight cat from Japan who once held the Guinness World Record for the most YouTube video views of an individual animal (400+ million!!). We wrote a fun paragraph about him and then my daughter chose a famous pup to write about for her own paragraph.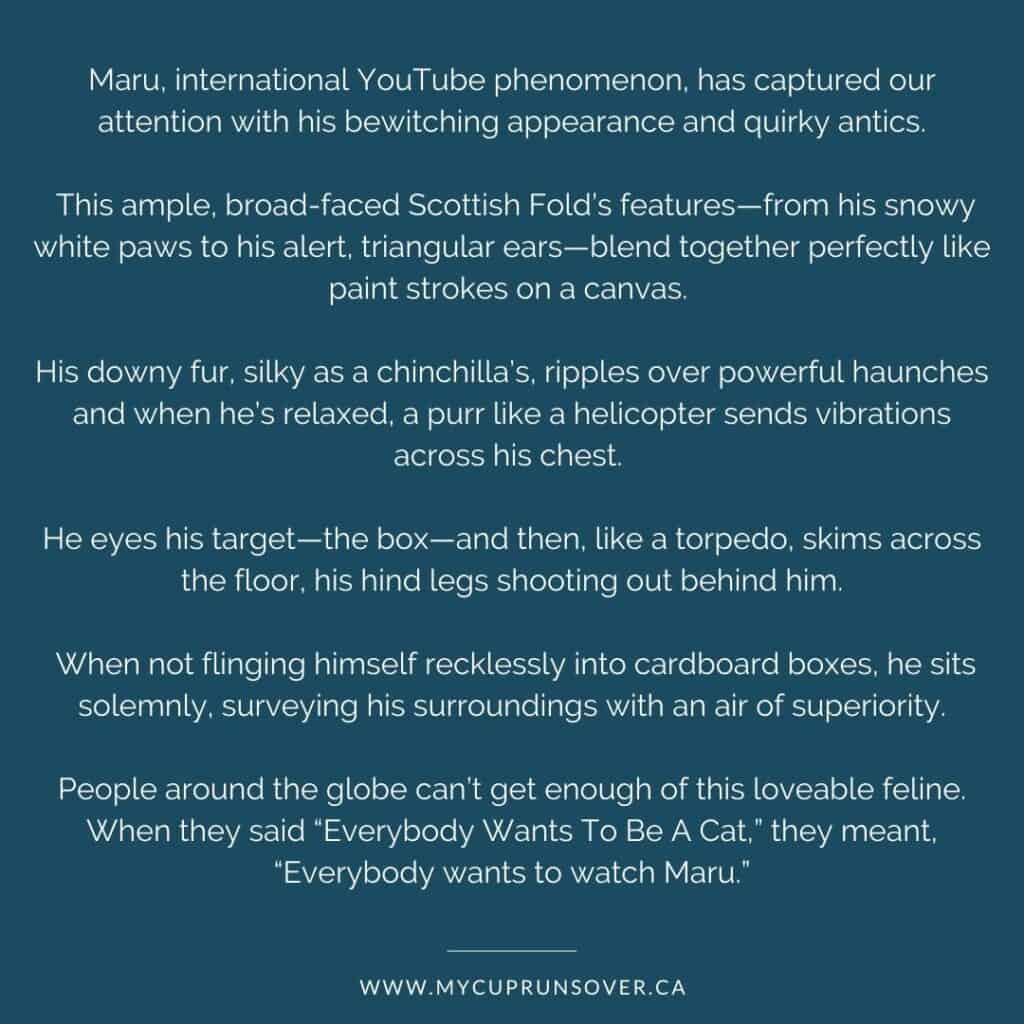 5. Incremental Writing Program That Leads to Mastery
I love the incremental nature of WriteShop I. The skills taught in each lesson build on previous lessons and once a skill has been taught, it's regularly reviewed to keep it fresh in the student's mind.
It's so important that kids learn to write well at the paragraph, sentence, and word level before moving on to longer compositions. The skill builder activities help students master laser-focused skills without forcing them to do long, complicated exercises. They get experience rewriting several sentences in a row to structure them in a particular way before moving onto their paragraph assignment where they get a chance to incorporate this new skill alongside the others they've already learned.
Many of the assignments are no longer than two to three paragraphs, giving students the opportunity to build mastery on a foundational level before attempting to produce longer compositions and reports. We can see real progress through small projects that feel completely manageable.
The guided self-checks and the writing skills checklist keep them on track and push them to be more critical of their own work.
---
I hope this gives you a good overview of what the WriteShop I/II program is really like. If you're looking for a high school writing curriculum that allows you to be hands-off, this one probably isn't for you.
But if you want to develop your confidence in your ability to teach writing and are willing to put in the time to see your kids' writing skills flourish, I encourage you to check out WriteShop today. They have a handy placement test on their website that will help you determine exactly what level your student should jump in at so they can start building their love of writing this year.