Novel studies are such an exciting way to achieve your language arts learning outcomes. Whether you join an interactive online book club or select a few novel studies to do as a family, these virtual book clubs from Literary Adventures for Kids will open up a whole new literary world.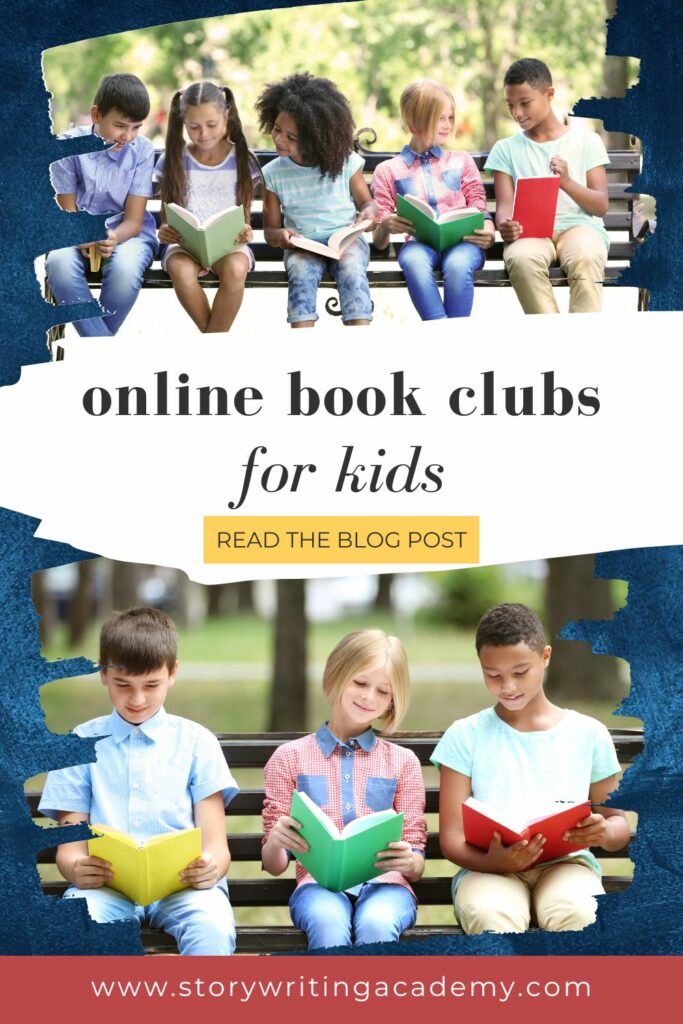 I received free access to the Society for Literary Adventurers for review purposes. All opinions are my own and I am not required to post a positive review.
Why I'm Looking for Virtual Book Clubs for My Kids
In the earliest days of our homeschooling adventure, I was fun and creative, and I loved coming up with my own curriculum and ideas. I could (and did) create a hands-on book study for any book we read and my little girls and I had a hoot.
Fast forward a few years…I was working a lot more and we had two more kids. I found it hard to come up with as many of my own activities, so I started looking for out-of-the box curriculum that required as little prep as possible from me.
Book studies remained a favorite learning method for us, so I purchased several different types. I also downloaded a few novel study templates and printable homeschool book logs off the Internet.
It turns out, not all book studies are created equally. Although we still loved many of the books we read together, studying them turned into a bit of a drag. There were endless, uninspiring activities and as each one built upon the last, I had a hard time deciding what to cut out and what to keep in.
A few years ago, we started doing novel studies with a couple of other families and each week we'd do a fun hands-on activity (like making our own mermaid bookmarks). At the end of each unit, we'd have a party with a theme to match the book. This was a lot more enjoyable for my kids and aside from the activity and party prep, didn't require too much planning exertion on my end.
The Best Online Book Clubs for Kids
But it's been a couple of years since we ran our in-person book clubs and we've been searching for a fun alternative. I love discussing books with people I met online and I thought my kids might like that too. Plus, we need novel studies that can grow with our growing family as we move into the middle school and high school years.
I think I've found everything I'm looking for with Literary Adventures for Kids.
With a plethora of online novel studies, a flexible schedule that can take kids all the way through the high school years, and a monthly interactive online book club, Literary Adventures for Kids makes it possible to meet all of our language arts requirements through novel studies! Woo-hoo!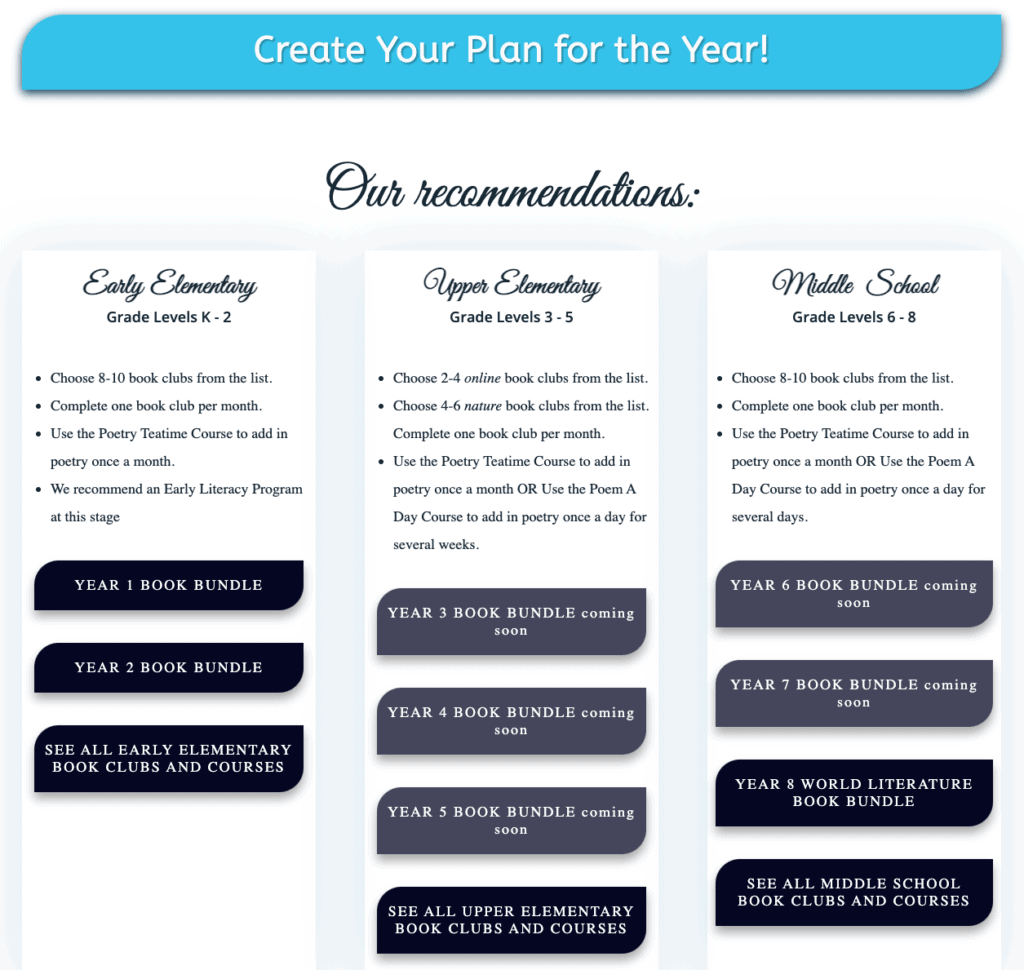 How These Online Book Clubs are Structured
All of the book clubs are designed to take about a month, but they can be stretched out or shortened to several days or several weeks. They are usually split up into four-week periods, or eight parts.
They are designed for you to make them your own, not a curriculum that is meant to be onerous for you or your children.
At the beginning of each online book club, you will find a book list, project supplies, and instructions for how to adapt the book club for use in a larger group setting.
*Note: If you want to use the book club material with a co-op or study group, you will need to purchase a group license instead of a family license.
Here's what you can expect to find in each of the online book clubs from Literary Adventures for Kids.
Reading, Vocabulary, and Grammar
Each section of the Literary Adventures for Kids book club includes a section with reading assignments, copywork and dictation, and a brief grammar discussion.
The weekly reading, vocabulary, and grammar assignments contain short videos on different elements of reading and writing to help kids develop their own skills. This helps them engage more deeply with the content they're reading and analyze what makes it a compelling piece of literature.
Kids will copy a favorite quote into their journals each day of the week. On the last day of the week, the parent or teacher reads the quote aloud and the student writes it from memory. An alternative to this is to give them a version of the quote that has incorrect spelling or grammar and get them to edit it.
You can use this as your grammar and spelling program, use it to supplement your existing program, or feel free to skip it altogether.
Rabbit Trails
Rabbit Trails are one of the best things about homeschooling–those moments when an interest is piqued in some tangental subject and the next few minutes or hours are spent going down a rabbit trail of unexpected discovery. Some may call this a lack of focus, but rather, it's this type of interest-led learning that sticks with children and calls them into greater focus.
In Literary Adventures for Kids, a feast of delicious rabbit trails has been laid out for us. This is fantastic because it allows us to embrace the diversion without, say, wasting thirty minutes trying to find an appropriate YouTube video to explain the basics of the Civil Rights Movement.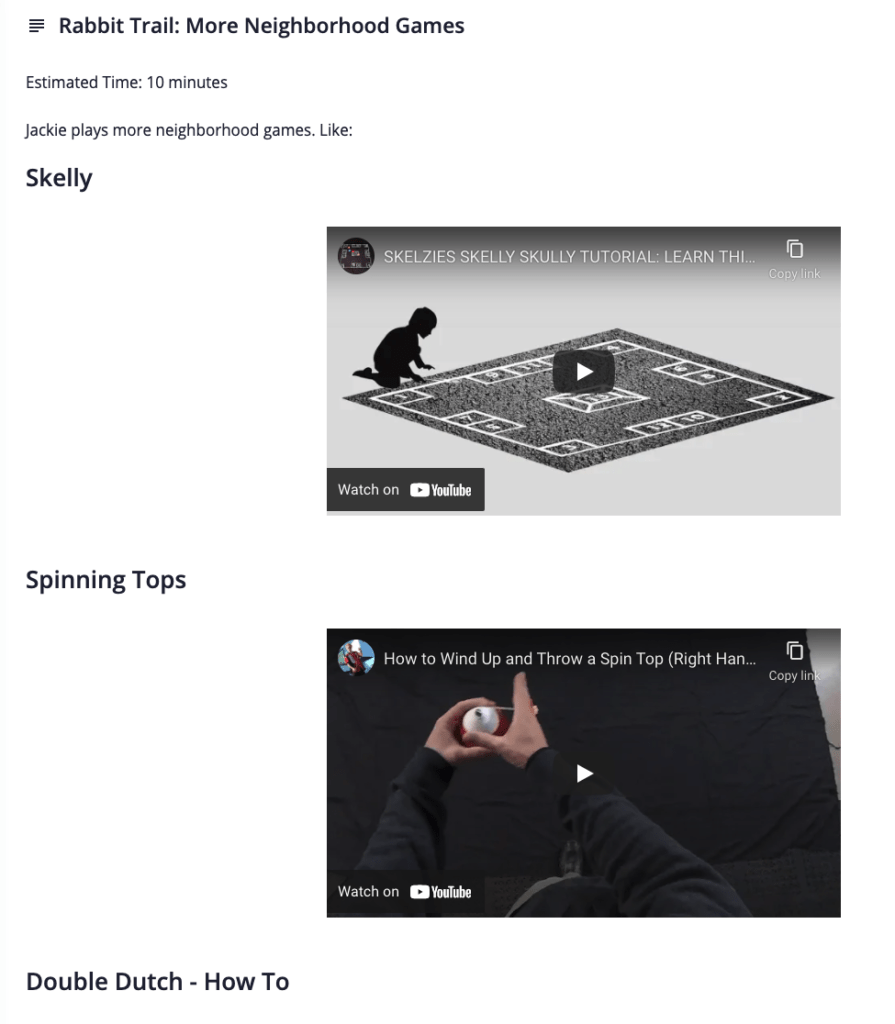 Students hop off the traditional roads of literature and meander down paths about pop culture, history, biographies, poetry, music, and more. Sparked by topics or ideas mentioned in their books, they'll broaden their understanding of the book's context while also creating a cache of ideas for future study.
I love that the material is already there for you to follow these rabbit holes, saving you loads of time and work. These are the things that truly make homeschooling rich, but also the things that we often push to the side when we run out of time.
Magic Dust
Another of our favorite aspects of homeschooling is doing hands-on projects that relate to the subject we're studying, but again: time-consuming!
These virtual book clubs for kids have hands-on projects built right in. Of course, if these aren't up your alley–and I totally get it if they're not! I go through seasons where the last thing I want to do is another project–you can obviously skip them, but it's nice to have the option.
Some examples of these hands-on projects include mapping activities, cooking, a nature adventure, playing games, and making a family tree.
Writing Projects
Each unit includes an end-of-month writing assignment to help students reflect on what they've read and learned and practice their own writing.
For example, in the Brown Girl Dreaming online book club, the writing assignment is to write a haiku. The store is written in poetic form, so this assignment is a great tie-in to the book.
Party School
At the end of each literature study, you and your kids get to celebrate the book with a party. Invite friends or family over for food and fun! All the ideas for food, decorations, and activities are included.
How to Access These Online Book Clubs for Kids
Literary Adventures for Kids is a really flexible curriculum created to support you in your literary homeschool journey. You can use the online book clubs as a full language arts program equivalent to one year of high school credit by completing eight or more studies per year.
You can also use the novel studies as a supplement to any language arts program. Hide The Chocolate–the company behind these awesome resources–has mapped out different pathways for three different age groups: Early Elementary, Upper Elementary, and Middle School as well as for each year of High School!
This is incredibly helpful in making a plan for your own literary adventures for your whole homeschool career.
You can view these plans here.
Each of the online novel studies can be purchased individually, or you can join The Society for Literary Adventurers to get all access to the high school online book clubs or The Literary Adventurers Clubhouse for elementary and middle school kids.
Some of the Online Book Clubs Available Now
Here's a sample of some of the individual online book clubs you can enroll your kids in through Literary Adventures for Kids:
Wonder
A Wrinkle in Time
Number the Stars
Bud, Not Buddy
Where the Red Fern Grows
Brown Girl Dreaming
The Giving Tree
Cloudy with a Chance of Meatballs
Springtime Poetry Teatime
I am Malala
The Great Gatsby
Animal Farm
The Alchemist
Check out the Back-to-Homeschool Bundle Sale to grab some amazing deals before the start of the new school year!